Adam Smith (1723-1790)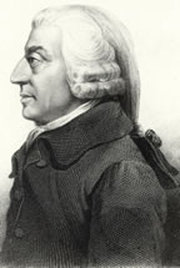 Adam Smith was born on or around 5 June 1723 at Kirkcaldy in Fife. He attended the Burgh School of Kirkcaldy and in 1737 entered the University of Glasgow, where he studied under Francis Hutcheson. In 1740 he became a Snell exhibitioner at Balliol College, Oxford, but left in 1746 without taking a degree and returned to Scotland.
From 1748 to 1751 Smith gave courses of public lectures in Edinburgh on rhetoric, history of philosophy, and jurisprudence. Then in 1751 he was appointed Professor of Logic at Glasgow and soon moved to the Chair of Moral Philosophy, which he occupied until 1764. Smith's lectures on moral philosophy at Glasgow provided the basis of his first book, The Theory of Moral Sentiments (1759), which brought him immediate fame. By 1774 the work was in its fourth edition. It was greatly enlarged in the sixth and final edition, published in the year of Smith's death. There were three French translations (1764, 1774, 1798) and two German (1770, 1791).
Smith resigned his Chair in 1764 to become travelling tutor to the Duke of Buccleugh. He spent the winter of 1765–6 in Paris where met economists and philosophers including Quesnay, Turgot, Helvétius and D'Holbach. In November 1766 he returned to London with the material for his second and best-known book, An Inquiry into the Nature and Causes of the Wealth of Nations, though this was not in fact completed for another ten years. The book was finally published on 9 March 1776, and before the end of the century, two German translations, two French, one Danish, one Dutch, one Italian and one Spanish translation had appeared.
While Smith was preparing the second edition of The Wealth of Nations, he was appointed Commissioner of the Customs and Salt Duties for Scotland. This required him to move to Edinburgh, where he spent the rest of his life. In Edinburgh, Smith established a weekly dining club, the Oyster Club, which met on Fridays at a tavern in Grassmarket. Its members included Robert Adam, Adam Ferguson, John Playfair and Dugald Stewart. Smith was also a founder-member of the Royal Society of Edinburgh, and from 1787 to 1789 Rector of Glasgow University. During this period, he published the second, third, fourth and fifth editions of The Wealth of Nations (1778, 1784, 1786, 1789) and the fifth and sixth of the Theory of Moral Sentiments (1781, 1790). 
Adam Smith died in Edinburgh on 17 June 1790. His surviving papers were published as Essays on Philosophical Subjects in 1795.
Enlightenment Philosophers
Robert Wallace (1697-1771)
Hugh Blair (1718-1800)
William Robertson (1721-1793)
Archibald Alison (1757-1839)