Thomas Reid (1710-1796)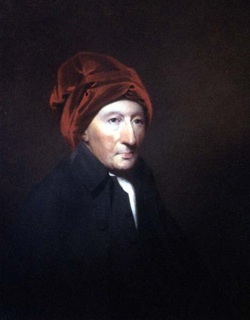 Thomas Reid was born on 26 April 1710, the son of the Presbyterian minister of Strachan in Kincardineshire, Scotland. He attended Kincardine parish school and Aberdeen Grammar School, and in 1722 entered Marischal College, Aberdeen, where he followed the four-year general arts course before going on to study divinity. He completed his theological training in 1731, and was admitted to the ministry of the Church of Scotland. After a brief spell as presbytery clerk, he was employed by Marischal College as librarian from 1733–6. Following a tour of England, Reid became minister of New Machar in 1737, a position in the gift of the other Aberdonian college, King's.
Reid's first publication, 'An Essay on Quantity; Occasioned by Reading a Treatise in which Simple and Compound Ratios are Applied to Virtue and Merit', written while Minister of New Machar was presented to the Royal Society in 1748, is a criticism of Hutcheson's Inquiry into the Original of Our Ideas of Beauty and Virtue. This led to his being appointed regent at King's College in 1751, a position that required him to teach the whole of the arts curriculum except Greek. He played an active part in the administration of King's and was one of the founders of and leading lights in the Aberdeen Philosophical Society, better known as the Wise Club. In 1764 he published his first major work An Inquiry into the Human Mind, on the Principles of Common Sense (1764).
In 1764 Reid was appointed to the Chair of Moral Philosophy at Glasgow in succession to Adam Smith. During the following years, he developed the philosophy of Common Sense systematically and in great detail. He was also active in university government, represented Glasgow University in the General Assembly of the Church of Scotland, and was a keen member of the Glasgow College Literary Society, to which he presented papers and debating questions on a very wide variety of scientific, philosophical, political and economic topics.
Thomas Reid retired from teaching in 1780. In 1785 he published the Essays on the Intellectual Powers of Man and in 1788 Essays on the Active Powers of Man. He died on 7 October 1796.
Reid's philosophy had significant influence in France, Germany and the USA. His principal reputation is as the founder of the Scottish school of Common Sense philosophy, which was a development of earlier theories of moral sense as found in Shaftesbury, Kames, Hutcheson and Turnbull.
Enlightenment Philosophers
Robert Wallace (1697-1771)
Hugh Blair (1718-1800)
William Robertson (1721-1793)
Archibald Alison (1757-1839)