John Veitch (1829-1894)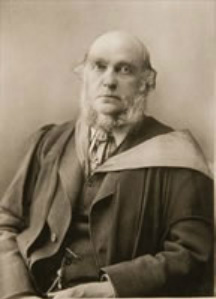 John Veitch was born in Peebles, a town in the Scottish Borders. His father was a veteran of the Pennisular Wars and his mother a committed church woman who sided with the Free Church movement led by the philosopher Thomas Chalmers. Veitch received a good education at local schools, where his classmates included Henry Calderwood, subsequently Professor of Moral Philosophy at Edinburgh, and though it lacked any element of music, art or sport, deficiencies that were reflected throughout his life, it enabled him to win a bursary at Edinburgh University. He matriculated in 1845 at the age of 16.
It was just two years after the Disruption that had split the Church of Scotland into 'Free' and 'Established'. John Veitch's intention was to study divinity for eventual ordination in the Free Church, but it was customary for divinity students to take several classes in philosophy. Like other students Veitch found that some of the best philosophy was being taught at New College, the alternative Free Church's fledgling university. Accordingly, while he attended lectures at Edinburgh University given by Sir William Hamilton the Professor of Logic and Metaphysics and Christopher North, the Professor of Moral Philosophy, he also attended the lectures of their Free Church rivals, Alexander Campbell Fraser, and Patrick MacDougall. He also joined the New College 'Metaphysical and Ethical', a student society to which he presented several papers.
The climate of the times was such that able students took the courses of their choice but did not bother to take a degree, a qualification held in low regard since the standard in some required classes was minimal. University reform was afoot, but when it came (in 1858), Veitch had already completed his studies (and was later, unusually, awarded his degree honoris causa). Though he remained deeply religious, Veitch abandoned thoughts of ordination, and for a time worked as a private tutor in the north of Scotland. He returned to Edinburgh in January 1856 to become assistant to Sir William Hamilton. The post did not last long because the ailing Hamilton died just five months after Veitch joined him. However, he was retained as assistant by Hamilton's successor in the Logic chair, Alexander Campbell Fraser, who had known and valued him as a student at the free New College.
He held this post from 1856 until 1860 when he was appointed Professor of Logic, Metaphysics and Rhetoric at the University of St Andrews, and thus a colleague to James Frederick Ferrier, the Professor of Moral Philosophy. At St Andrews his role as professor of Rhetoric required him to teach literature, a task he took to with enthusiasm. This substantially altered the direction of his academic work, but it also served to cement his relations with Principal Shairp who also had literary and poetic interests and became a lifelong friend. At St Andrews, his biographer remarks, 'we watch the deepening processes which gave concentration to his powers, and at the same time defined his limitations'.
Four years later John Veitch was appointed to the Chair of Logic and Rhetoric at Glasgow, an appointment he held until his death. Though it was a more prestigious post in a much larger university, he found life in the city uncongenial and spent the long vacations in the Borders, having built a commodious house there – The Loanings – and he became ever more interested in the landscape and culture of the Scottish Borders.
The group of students to which Veitch belonged in Edinburgh included many able minds who went on to excel in the law, the church and the academy. Veitch was regarded as intellectually brilliant and the most philosophically able. Even before he obtained a university post, he had translated Descartes into English, and thus became the philosopher who first introduced Descartes to an English reading audience. In retrospect, it was perhaps his major philosophical achievement. His accomplishments as a constructive philosopher in his own right were overshadowed by his living in the shadow of Sir William Hamilton. Now an almost totally neglected figure, in his own day Hamilton had a national and international philosophical and intellectual prestige would be difficult to exaggerate.
Veitch published a Memoir of Hamilton in 1862. He contributed the volume on William Hamilton to the Blackwood 'Famous Philosophers' series in 1882, and in 1883 published a further two lectures on Sir William Hamilton, the Man and his Philosophy. These works inevitably identified him as Hamilton's post-mortem amanuensis rather than a philosopher in his own right, though he did publish a collection of philosophical essays. But more importantly, he devoted a great deal of intellectual energy to two volumes on Border literature and antiquities, as well as some poetry.
His place in the Scottish philosophical tradition is secure, however, based both on his early Life of Dugald Stewart and his role as enthusiastic and self-conscious exponent of the old 'Scottish school' to another generation of Scottish philosophers. These included Hugh Laurie, subsequently appointed lecturer in Logic to the newly created Australian University of Melbourne. Laurie later wrote one of the books that brought the Scottish tradition in philosophy to self-consciousness, namely Scottish Philosophy in its National Development (1902).
John Veitch was commemorated in a Memoir by his niece, Mary RL Bryce first published in 1896.
Post-Enlightenment Philosophers
Thomas Carlyle (1795-1881)
James Hutcheson Stirling (1820-1909)
Robert Flint (1838-1910)
Sir Henry Jones (1852-1922)
C A Campbell (1897-1974)
George Elder Davie (?)